Long-term career development and progression opportunities are key to retaining hospitality recruits, according to research conducted by Caterer.com in November 2018
'Invest in your people in order to retain them' was the clear message to hospitality industry employers in a survey of 21,000 global hospitality workers.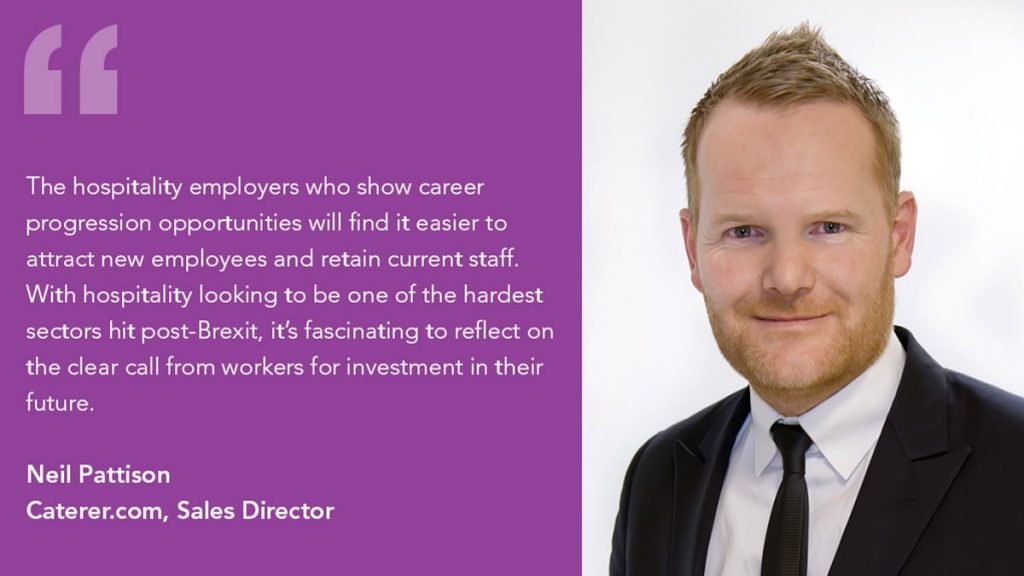 The Caterer.com survey revealed that two thirds (65%) of hospitality workers plan on quitting their jobs in the near future. Worryingly, over half of those workers (59%) plan on moving in the next six months.
Seeking new career opportunities
Our research explored the key attributes which tempt hospitality workers to explore new pastures. Findings demonstrated that career progression is the most important factor (16%) showing employees want long-term prospects within a company. Surprisingly, salary (14%) came in second, followed closely by training & development (13%) – showing staff want to feel invested in by their employers.
The hospitality sector is big business and the UK's third biggest employer, according to UK Hospitality, providing jobs to 2.9 million people (7% of the working population). The industry is facing increased staffing and recruitment pressures due in part to uncertainty ahead of Brexit.
Employees want employment progression
Our survey of over 21,000 hospitality workers from across the globe highlights the importance of employment progression for retaining staff in what can often feel like a seasonal or transient industry.
The fast-paced nature of hospitality is a key draw for 12% of workers, while teamwork ranked highly for 14% of those surveyed.
Drop in apprenticeship uptake
The sector has seen a reduction in apprenticeships since the Apprenticeship Levy was introduced in 2017 with a low uptake from small businesses and in turn, less opportunities have been available for young people to enter the industry.
The Autumn Statement saw the chancellor announce that the Government will half the amount small businesses have to contribute from 10% to 5% when taking on apprentices. – a move hoped to increase industry apprenticeships and on the job training.
Highlighting the importance of the survey's findings, Neil Pattison, Sales Director from Caterer.com said,
The hospitality employers who show career progression opportunities will find it easier to attract new employees and retain current staff.

With hospitality looking to be one of the hardest sectors hit post-Brexit, it's fascinating to reflect on the clear call from workers for investment in their future.

With 65% of respondents saying that they plan to quit their job in the near future and high competition among employers, investing in your staff will help to alleviate the lure of a role from elsewhere.
Summary of our findings
65% of hospitality workers plan on quitting their job in near future
Nearly one in three hospitality workers plan to quit their job due to a lack of career progression opportunities
Training & development coupled with career progression (29%) are more important than salary (14%) when it comes to attracting talent