Put your best foot forward for hospitality! Walk for Wellbeing 2023
The Walk for Wellbeing 2023 is a-go! From September 30th  to October 15th you are invited to join the hospitality community in walking for a good cause.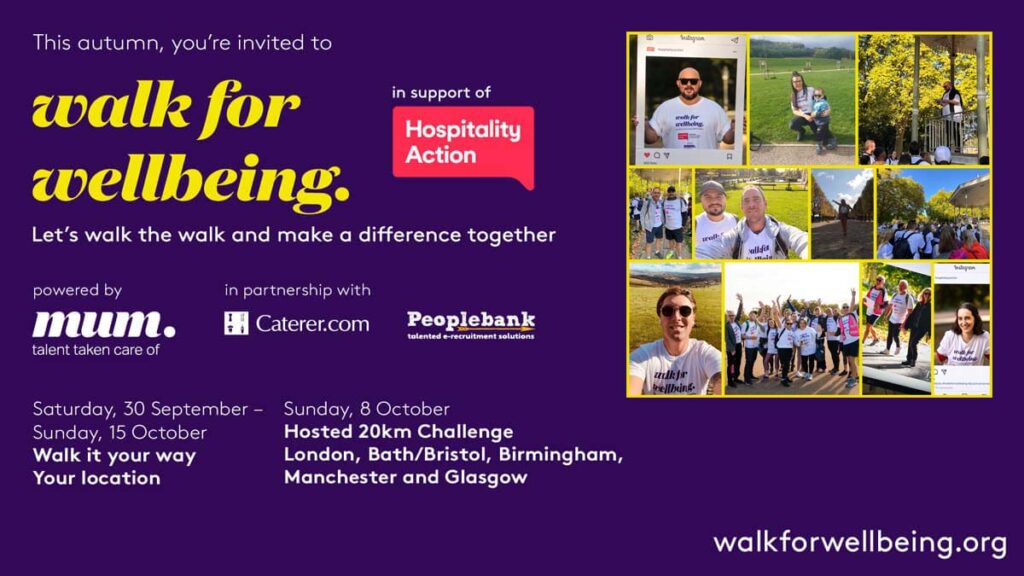 Caterer.com are immensely proud to once again be supporting the incredible initiative that is Walk for Wellbeing, where our team will be donning their walking shoes later this year for Hospitality Action.
4 years in, UK hospitality talent partner mum have teamed up again with us here at Caterer.com, along with Peoplebank, to raise funds and awareness for the incredible work that Hospitality Action do to provide financial and personal support and to those in need within our hospitality community.
When and the Where
This year on Sunday the 8th of October there will be 5 separate hosted 20km walks across the UK in London, Bath, Bristol, Birmingham, Manchester, and Glasgow. There's also the option to 'Walk It Your Way' at a location of your choice any time between the 30th of September and the 15th of October. The Walk For Wellbeing initiative was designed for flexible participation, so whether you like some friendly competition or fancy a leisurely stroll with family, friends, or colleagues – you can take on the challenge however suits you best.
P.S. the hosted walks are pet-friendly too, so feel free to bring alone your four-legged friends!
What Your Support Can Achieve
Your support is needed more than ever – Hospitality Action has answered 26,809 helpline calls, delivered 6,753 face-to-face and phone counselling sessions since the start of 2020 – with a significant portion of those that reach out experiencing serious mental health issues including stress, anxiety, and feeling hopeless. An overwhelming number of those contacting Hospitality Action are also experiencing issues with debt and/or court action or eviction.
With your support, Hospitality Action aims to continue working hard to bring security to those in times of crisis in 2023/2024 by:
Providing mental health support to those reaching out.
Deliver crucial in-person and phone counselling sessions.
Provide emergency grants that help to put food on the table for those in need.
Clearing of housing arrears for hospitality families facing immediate risk of homelessness.
Providing tailored emotional and financial relief, increasing security and wellbeing.
Watch the video
How can I get involved?
For more information on how to get involved in the Walk For Wellbeing, please visit www.walkforwellbeing.org
Support the Caterer.com Team
Caterer.com believs that the wellbeing of hospitality people demands our collective attention so we will be standing shoulder to shoulder with everyone in our industry facing challenging times and supporting Walk for Wellbeing in its goal of bringing wellbeing to the forefront of our conversations and raising money for Hospitality Action. Hit the 'Donate' button to show your support, and spread the word by sharing our donation page with your colleagues, friends and family. Thank you.
You might also like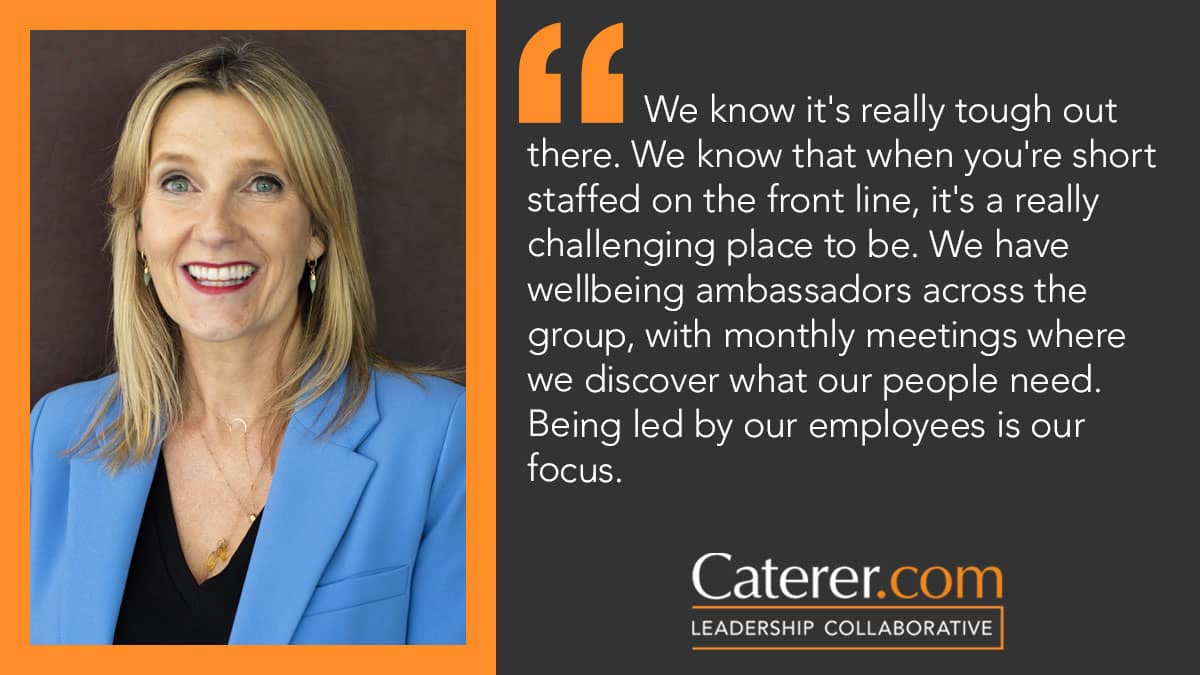 Why the wellbeing of your team is of paramount importance to the success of your hospitality business – featuring: Amanda Scott, Compass Group – Recruiting in Hospitality podcast
Caterer.com People Awards winner, Food Service provider, Compass Group shone with their entry in the Wellbeing category. At a time when circumstances were difficult throughout the hospitality industry, Compass Group understood that the well-being of their people was of paramount importance. This is as much relevant today as it was then.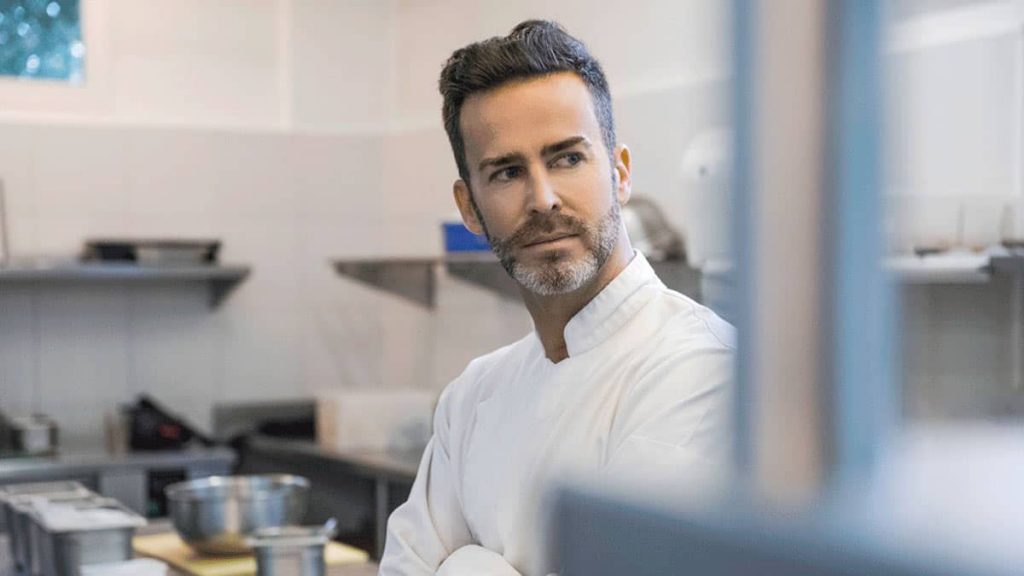 The importance of looking after your employees' mental and emotional wellbeing
Good mental and emotional well-being are critical but how do you, as a leader or manager, make sure that your people are OK and, more importantly, should responsibility for your employees' health and well-being rest with you?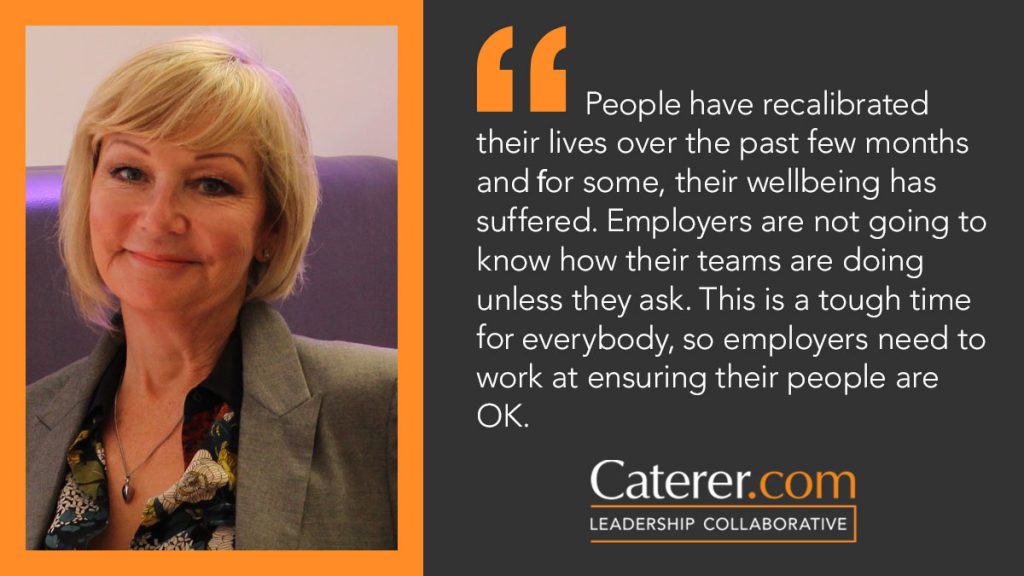 Why employee wellbeing is vital for optimum business performance and success
Throughout lockdown, employee engagement and well-being were at the forefront of everyone's mind.
With hospitality brands navigating the myriad of new regulations, we explore why employers should continue to focus on well-being and the benefits this can bring.