Claude Bosi wins coveted AA Chef's Chef of the Year Award 2018
Caterer.com is extremely proud to once again sponsored this prestigious award.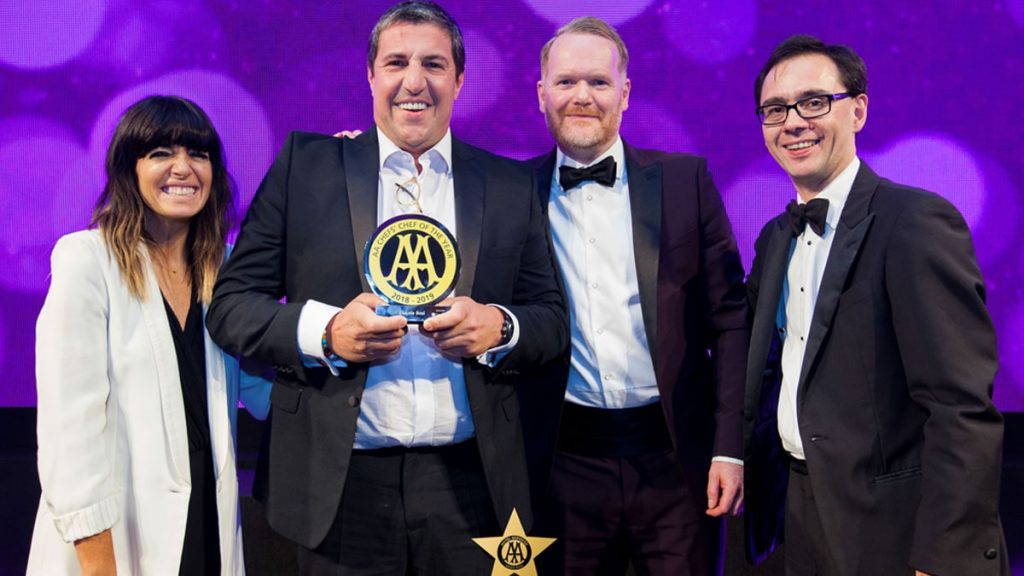 Neil Pattison, Sales Director of Caterer.com, who presented the trophy at London's Grosvenor House said,
Claude Bosi is adored and respected by not just the hospitality community, but also the restaurant going public. His hard work and dedication to his craft is a true inspiration to upcoming UK chefs.
Of his win, Claude Bosi said,
Being recognised by your peers is one of the best awards you can get. I am so proud of my team, this is a fantastic result.

I was practically born in the kitchen because my parents had a restaurant in Lyon where I grew up. Even though my mother never dared let me near the restaurant kitchen, cooking has always been a passion.
Working with the greats
Bosi, born in 1972, graduated from catering college and served his apprenticeship in Lyon before moving to Paris to Le Chiberta as Demi Chef de Partie. His next position was for two and a half years with Alain Passard at L'Arpège in Paris, starting as Chef de Partie, then climbing to Sous Chef, during this period L'Arpège moved from two Michelin stars to three. This was followed by nearly one year with Alain Ducasse in Paris, as Chef de Partie.
Claude came to England in November 1997 as Sous Chef, then Head Chef, at Overton Grange, south of Ludlow, Shropshire. The restaurant earned a Michelin star under his role as Head Chef in 1999.
Claude and Hibiscus success
He then opened Hibiscus in 2000, and in 2001 the restaurant was awarded its first Michelin star, followed by a second in 2003. Claude sold Hibiscus in Ludlow in March 2007, and relocated it to London. The 45-seat restaurant then launched on Maddox Street in Mayfair and soon garnered legendary status. In late 2013, Claude bought out his investors, redesigned the interior to give it a more relaxed yet personalised feel, and added the Chef's Table and development kitchen.
Hibiscus received numerous accolades for its modern French cuisine: two Michelin stars, a 9/10 rating and #5 in the UK in the Waitrose Good Food Guide 2016, and five rosettes in the AA Restaurant Guide 2016.
Claude is currently Chef Patron of Bibendum situated in the old Michelin headquarters at Brompton Cross for which he has won numerous awards.
AA Chef's Chef of the Year
A popular and coveted title, the AA Chef's Chef of the Year award, introduced in 1996, offers all AA Rosette-awarded chefs the chance to decide which of their peers deserves the ultimate recognition of their performance over the past twelve months. Previous Chefs' Chef winners include Simon Rogan, Daniel Clifford, Nathan Outlaw, Tom Kerridge and Pierre Koffman.