User guide: using the Caterer.com CV Database
Below is your step-by-step guide to using the Caterer.com CV Database, a tool which lets you take control of your hiring by easily searching for candidates.
Filter searches by skillset and location, see candidates' application history, contact the best suited, and set up alerts to find others who fit the brief.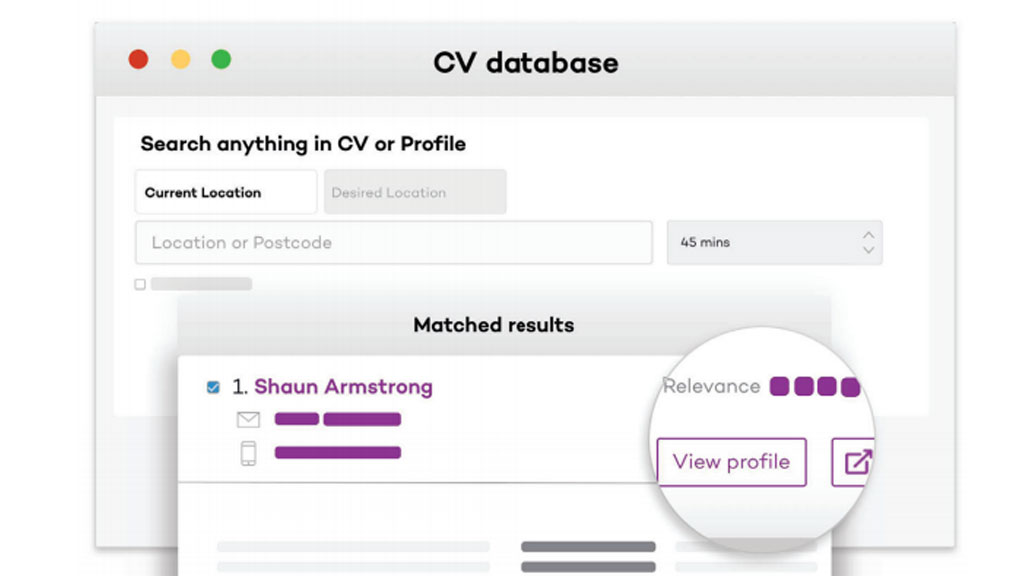 Getting started
To start, click the 'search for candidates' button within the CV Database section of your dashboard or the 'CV Database' tab in the header navigation bar.
If you don't have access, simply request a call back or buy a month's access online.
When you open the CV Database, you can first select whether you want to use by 'search' or 'targeted search'.
'Search' allows you to cast the net as wide as possible and lets us do the hard work for you, while 'targeted search' allows you to be more specific.
Searching for candidates
When using 'search', simply enter your keyword or Boolean search into the search bar. This will pull any matching results from candidate profiles or CVs. We recommend you lead with the job title you are hiring for, but you could also include a skill, experience or qualification you're looking for.
While you type, our search bar will suggest matching job titles.
Location
Current location
Type in the location or postcode which matches where the job is, and filter results by either commute time or distance in miles.
Desired location
When searching for a potential candidate's location, you can also use where they want to work. Using this method means you will use a drop down, and will likely return more results, but perhaps include those who don't currently reside near your office/workplace too.
Willing to relocate
If you are hiring for a difficult to fill role, remember you can also select the 'willing to relocate' option in order to expand your talent pool.
Current salary
You can also search by an annual, daily or hourly salary – selecting as many figures as necessary from your desired range.
This filter is optional and searches run without 'salary' information will still show current salaries in matching candidate profiles.
Search type
We recommend selecting 'smart search' which expands your search to include similar job titles and skills, offering you a greater talent pool.
For experienced recruiters, you can use 'exact match' to make your results as relevant as possible.
Search in
The 'search in' function allows you to specify whether you want to search for your keywords within a candidate's job title, or within their entire profile and CV.
For instance, if you are searching for skills, it is best to include the entire profile, but if a candidate must have experience in a specific position, such as HR Manager, then searching by 'job title' can improve the relevancy of your search.
Active within
One of the most important parts of your search, this option allows you to specify how recently a potential candidate has been using the Totaljobs platform.
Activity is defined as any engagement with the Totaljobs site, whether it be an application, or an updated/new CV.
To check this, you can view a candidate's recent application history when using the CV Database.
Hide profiles viewed since
For regular users, you can hide profiles you've already viewed, in order to make your search as fruitful as possible.
Advanced search
Depending on your requirements, you can either use or hide advanced search.
This includes:
Job type
Select whether your desired candidate would have a Temporary, Contract or Permanent role.
Hours
Select whether your ideal candidate would be working part time or full time.
Minimum level of education
Select from a drop down to filter by your required minimum level of education. Whether they must be a graduate, or have a PhD, this can help refine your results.
Country of residence
Recruiting internationally? You can select from a drop down, if you require your candidate to already live in a specific country.
Languages
If you need someone who is multi-lingual, you can select required language skills.
Work eligibility
You can view every candidate matching your search, or select those who are eligible to live and work in the UK, or the EU.
Search
Once you click 'search' your results will appear below.
Search results
As soon as you complete your search, you will see a series of results.
The total number of matching candidates appears bolded at the top of the screen, with a summary of your search.
Sorting results
You can sort search results by relevance, last activity, last updated, current salary, distance or years of experience; choosing whether you want to see 10, 20, 30, 40 or 50 results per page.
Refining results
You can use the panel on the left-hand side of the screen to filter your results further.
Choose any option from:
Desired locations
Last activity
Current salary
Current job title
Discipline
Profile type
Job type
Hours
Notice period
Driving licence
Minimum level of education
Graduation year
Country of residence
Languages
Work eligibility
For each option, the figure which appears in brackets shows you the total results your refined search would return.
Viewing candidate profiles and CVs
Each candidate who matches your search will have a 'card', which details the key aspects of their CV and profile.
In this view, you can easily see:
Their current and desired location
Their current and desired job title
Their current and desired salary
The number of years' experience they have
You will also find an extract of their CV, with your keywords highlighted.
Downloading or sharing CVs
By each candidate's profile card, you can select to view their CV, email it to yourself or a colleague, or download it onto your device.
You can download multiple CVs by selecting the tick next to each candidate's profile card and selecting 'download selected CVs' at the top or foot of the page.
Contacting candidates
You can easily contact matching candidates through the tool, by selecting either 'email candidate' or 'view number' within their profile card on the Database.