How to recruit a diverse workforce and the simple actions to ensure successful recruitment
Having older workers within your business is about benefits. The life skills and experience they bring, their confidence gained in other sectors, their adaptability to onboard and integrate quickly and their ability to coach and mentor younger workers. With this in mind Centre for Ageing Better and Caterer.com are challenging employers of all sizes to take a hard look at age diversity and the real benefits older workers bring to the sector.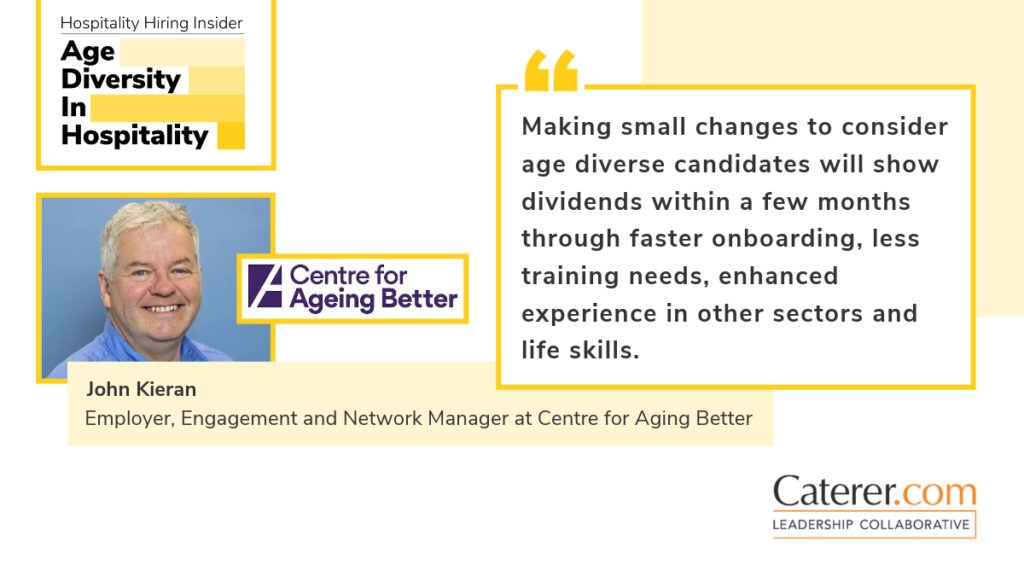 We spoke with John Kiernan, Employer, Engagement and Network Manager at the Centre for Ageing Better to find out what hospitality businesses can practically do to attract and retain an age diverse workforce.
Adapt your recruitment processes to include older workers at interview stage
At the Centre for Ageing Better we believe that employers considering an age diverse workforce are at the start of a journey; each organisation is different but the one thing that unites them is they all recruit.
Businesses don't always look at how many over 50s have applied for vacancies in the past year and, if there were any, how many made it through the first phase of the recruitment process. The question to ask is 'what are the challenges within our recruitment process stopping talented older workers from progressing to interview stage?'
Making small changes to consider age diverse candidates will show dividends within a few months through faster onboarding, less training needs, enhanced experience in other sectors and life skills.
Think about retention too – do you know why people want to work for your brand and conversely, why do they also want to leave? Asking the right questions and taking positive measures to increase retention gives potential employees confidence in the businesses they are applying to work for.
Become an age friendly employer
Suggestions include making simple changes, starting with job ads and the language used, to changes that reflect you understand the needs of an older workforce.
Research shows that making job ads more appealing to older workers does not deter younger workers. Avoid terms like 'recent graduate' and add a diversity statement that includes age-inclusivity.
Adapting traditional hospitality roles and how they are advertised to attract the attention of candidates is fundamental because older workers may be concerned that a role isn't for them based solely on what they read.
Talk to existing older employees about what attracted them to your business, what they like about their jobs, and what could be improved, then looking at how their responses correlate with what younger employees want from their roles.
The more data employers collect from their existing workforce, the better prepared they are to become an age friendly employer.
Embrace culture change to benefit from older workers skills and experience
Moving towards a more age diverse workforce absolutely involves a culture change, and that comes from the top.
One change is recognising the need to adapt existing work patterns to accommodate the lifestyle of older workers, who may not be looking for a career in hospitality, but who bring a wealth of valuable life skills and experience to any role they undertake.
Emphasising the variety of roles, different working patterns, and the opportunities for training and development, removes the fear that they need specialist skills to work in a variety of hospitality roles.
Some older workers are actively looking for a career change and jobs in hospitality could be exactly what they are looking for, and an opportunity to use all the soft skills learnt during their previous employment.
Engage with the Centre for Ageing Better
Employers keen to diversify their workforce should visit ageing-better.org.uk and have a look at the Age-friendly Employer Pledge, a nationwide programme for employers who recognise the importance and value of older workers.
Employers commit to improving work for people in their 50s and 60s and taking the necessary action to help them flourish in a multigenerational workforce.
There are free information packs and resources available and as a member, businesses become part of a peer-to-peer learning network with access to other professionals keen to share best practice when recruiting age diverse workers.
Need more help? Download the latest Hospitality Hiring Insider
In our latest Caterer.com Hospitality Hiring Insider, you'll not only gain access to the latest economic and hospitality trends analysis to inform your 2024 hiring plans, but you will also be able to download our latest research on age diversity in the sector, and the views of hundreds of hospitality people and consumers.
Plus, hear directly from HR leaders and team members at The Wolseley Hospitality Group, Fuller's and Compass Group on how hiring over 50s has brought positive benefits to their business – and their tips on how you can do the same.
You may also like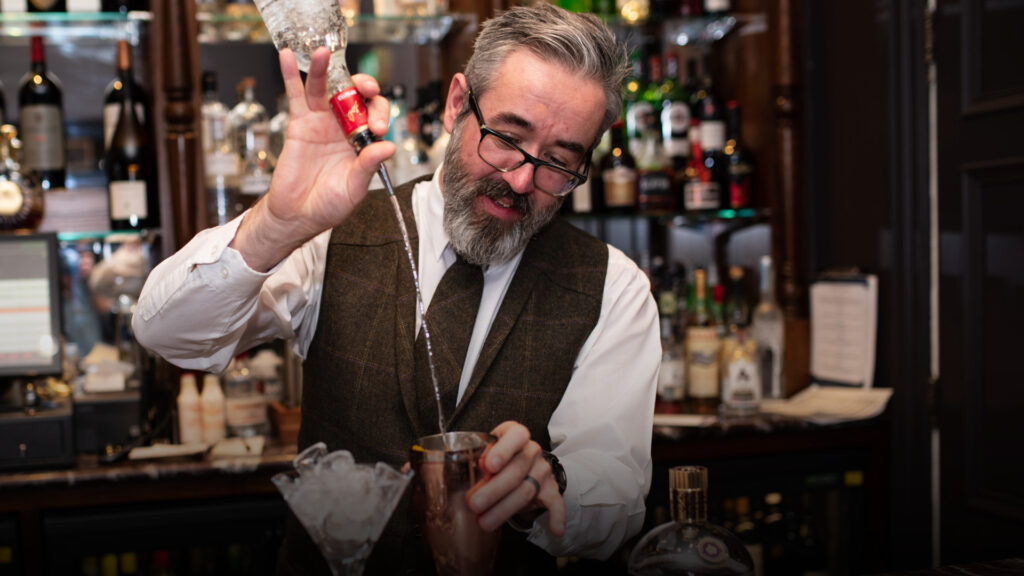 Hospitality is now the workplace of choice for over 50s with more than 165K joining the sector in 3 years
Did you know that people over 50 now make up 34% of the hospitality sector's workforce?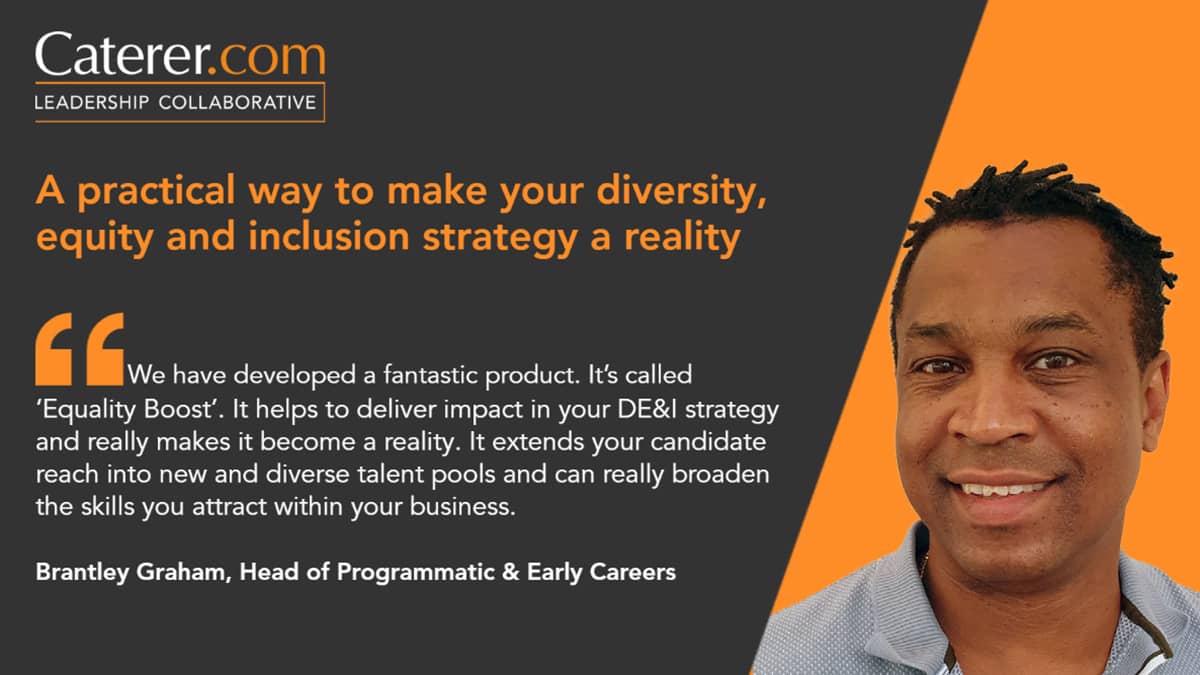 A practical way to make your diversity, equity and inclusion strategy a reality
Hire responsibly with Equality Boost
Building a diverse and inclusive hospitality workplace for innovation and success
In part two of our Hiring Strategies sessions, Caterer.com lifted the lid on the importance of diversity and inclusion in creating dynamic, innovative and successful hospitality workforces.